What investors need to know about fund liquidity risk – and what they can do about it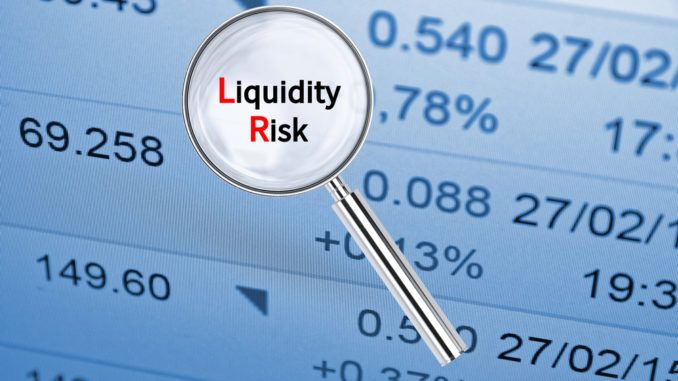 Investment risk comes in many forms, but in particular a type of risk emerged in the UK in 2019 – namely the liquidity risk or the risk that you cannot access your money when you want.
The suspension of the Woodford Equity Income fund in June and the M&G Property Portfolio fund in December brought back painful memories of people queuing to get their money from Northern Rock at the start of the credit crisis in 2007.
What should investors know about the liquidity risk? Here I will go through some frequently asked questions about this topic. I will also explain how you can prevent getting caught in a run on a fund, or at least reduce the risk that it happens.
What exactly is liquidity and liquidity risk on the stock market?
When an asset is described as liquid, it means that you can convert it into cash whenever you want.
The good news for investors is that most of the funds are fairly diversified and that the shares they hold are listed on the stock market. If you want access to your money, the value of your fund will be calculated at the end of the trading day and you will receive full payment within a few days.
Because they allow intraday trading – in other words, you can buy or sell at any time during trading hours – ETF's, or traded funds, offer even more liquidity than traditional investment funds.
However, as the problems at Woodford and M&G have shown us, illiquidity can be a problem. In short, as with Woodford, the risk is that it can take many months to get your money back, and even then it can be considerably less than what you have invested.
What actually happens if a fund gets into difficulties?
In general, problems do not occur suddenly. They develop over time. Neil Woodford, for example, had lagged behind for a number of years, and many investors had already left before business came to a head.
It was Morningstar's lowering of Woodford Equity Income in mid-May that caused the fund to run. When the pension plan of Kent County Council, a major investor in the fund, made a request for redemption, the fund managers were unable to return his money and had to announce the suspension of the fund.
Why could investors not get their money back, even though the fund still had significant assets?
The problem in this case was that the fund contained a very high proportion of unlisted shares, which are much more illiquid than shares of listed companies. Cashing in unlisted shares can be difficult at the best time; if large numbers of investors want to have their money out in one go, a crisis situation can arise quickly.
What happens in practice in these situations is that the crisis often escalates. In order to create liquidity, the fund is forced to sell its listed shares, which means that the unlisted shares that make up an even larger share of the fund's assets, further aggravate the problem.
How concerned should investors be about liquidity?
Liquidity has always been a risk for investors and is likely to remain so. Investors who want the peace of mind that comes with knowing that they can always get their money must take this seriously.
Research by MSCI last summer revealed potential liquidity problems at seven UK funds, in addition to Woodford Equity Income, although it refused to name them.
The departing Governor of the Bank of England, Mark Carney, has also warned that funds that contain illiquid assets, but allow investors to withdraw their money whenever they want, are built on a lie and pose a great risk to the financial sector able to form.
What can investors do to prevent them from being in this situation?
According to the law, the number of unlisted shares that funds may own is limited to 10%. In the case of Woodford, this limit was far exceeded. Ultimately it is the buyer, beware.
Laura Suter, personal finance analyst at AJ Bell, says that investors should carefully study the available information.
"Recent fact sheets contain up-to-date information, such as current cash levels or how much of the fund is invested in a handful of positions," she says.

"Annual reports contain much more in-depth details, but are unfortunately only published once a year, so it can be quite outdated."
Should people be concerned about the funds in which they have already invested?
There have been warnings in the media in recent months that various funds may be vulnerable to the kind of problems we have seen at Woodford and M&G.
For example, Morningstar has downgraded two funds led by Mark Barnett, the former prototype of Neil Woodford at Invesco, and the Lindsell Train UK Equity fund, run by another & # 39; star & # 39; manager, Nick Train. Investors should certainly take note of such downgrades.
It is also good to remember that certain asset classes are more sensitive to liquidity problems than others – shares of small and micro companies, high-yield bonds, infrastructure and real estate.
Moira O & Neill, head of Personal Finance at Interactive Investor, says that continuous monitoring of fund ownership by companies such as it is difficult for individual investors to replicate. Yet she says there are certain warning signs to watch out for.
"Things that can be red flags are a significant increase in the assets under management of a fund, or changes in the number of units or the allocation of cash," she says.
Laura Suter suggests that investors check whether other investors have a particularly large interest in the fund. "If a few major investors decided to withdraw their money to the fund, this could affect the fund's liquidity for other investors," she says. "To find out the risk of this, you can ask the fund manager which part of the fund has the top five investors."
But should investors avoid illiquid assets altogether?
It would go too far to say that. Everyone who owns a house, for example, is exposed to a great deal of illiquidity. Investing in funds with non-liquid assets is also a perfectly reasonable strategy.
To quote Mark Northway, Investment Manager at Sparrows Capital, "There is a premium intuitively linked to illiquid assets and it is fully valid for managers to access that premium and deliver it to end investors."
So if, for example, you want exposure to very small businesses or commercial real estate, what is a sensible approach?
A sensible way to gain access to the illiquidity premium is to use a so-called closed-end investment instrument. With a closed-end fund, the number of shares is fixed and shares are not repayable from the fund. Unlike open-end funds, managers are not allowed to create new shares to meet investor demand.
The closed structure, Mark Northway explains, "offers the manager the advantage of permanent or long-term committed capital, while stock exchange listing of the fund's shares allows investors to enjoy liquidity, albeit at a premium or discount on the net asset value. "
But remember that every investor is different and that you should ideally only make important investment decisions after consulting a qualified financial adviser who knows you, your circumstances and your goals.
Good Money Guide Providers
Looking for an institutional broker? Compare prime brokers here