NAMM 2020: the big stories from the greatest music gear show on Earth
NAMM 2020: It's the biggest event of the year for gear and we already have the news that matters on MusicRadar.
Yes, the winter NAMM 2020 is in full swing and we are pounding on the Anaheim show floor to bring you the greatest stories.
Every year in Anaheim, California, this event with only trade & # 39; the world's largest (and smallest) developers and manufacturers comes together to show off their latest products for guitarists, hi-tech musicians, drummers, DJ & # 39; s and many others.
To ensure that you don't miss anything, we update this page with all the news that comes in. So if you want to know what's happening on NAMM 2020, keep it here …
NAMM Guitar news
fender
Following last year's Acoustasonic Telecaster splash, NAMM 2020 sees that the most iconic form of the company will receive hybrid treatment with the & # 39; eye-catching & # 39; Acoustasonic Stratocaster (below).
Wait, there's more. Much more.
• Fender relives HM Strat for Limited Edition run: The lively metal Strat of the big F is picked from the archive
• Fender Player Series adds Duo-Sonic and Mustang models: Four new instruments in the 2020 line-up
• Fender introduces hand-wired Custom Princeton Reverb from & # 39; 64 and new Mustang GTX series of digital modeling amplifiers – Three digital pioneers and one historical recreation on the road
• Fender brought its Lead Electric back to the end of the 70s
• Fender & # 39; s new American originals – the 60s Telecaster Thinline and 70s Telecaster Custom
• Perhaps the best of everything, Fender expands Parallel Universe with Maverick Dorado, Tele Mágico and more (Below)
And in the latest news – can we see a distinctive model of Tom Morello & # 39; s Soul Power Strat from the Audioslave era? YouTuber Ryan & # 39; Fluff & # 39; Bruce attended Morello's recent Guitar Revolution event in California and reported this …
Absolutely visible is this loving recreation of the & # 39; 60 & # 39; Rocky & # 39; Strat from George Harrison.
Gibson
More distinctive models seem certain – the first is a whole collection for Slash, with Les Pauls and J-45s. A signature for Adam Jones from Tool (Gibson Silverburst Les Paul Custom) has now been confirmed, but will not be with NAMM, and it is now possible that Bon Jovi & # 39; s Phil-X has moved from Framus to Gibson.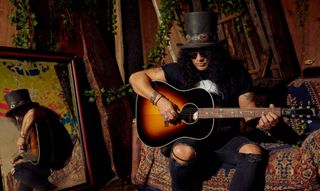 We also have good news for fans of angular guitar: Gibson goes back to the 70s with Original Series Classic V and Explorer.
And now we can unveil Gibson & # 39; s extensive acoustic plans at the launch of its Acoustic Custom Shop with historic and modern collections.
Finally, for now we have an online TV channel from Gibson that is full of great shows.
(Embed) https://www.youtube.com/watch?v=pKP0hfnd1nw (/ embed)
pastor: The American guitar company has a new signature model for Nine Inch Nails man Robin Finck and other new designs in the shape of the Roundhouse and Contender, plus an updated Warhawk.
Electro-Harmonix: The company has announced its first tuner pedal; it is mini and affordable. But will that be it? Of course not! Stay tuned…
Fryette: The amplifiers from the Deliverance II series will probably be their most important NAMM show. But as you can see from the specification here, it's an important one.
Schecter: Two additions to the guitar line have already been revealed in the form of the new eye-catching Silver Mountain and updated PT Pro lines. There is much more to come.
Seagull: The Canadians have flown an addition to the popular acoustic S6 line with the Classic Black.
Cort: After Schecter and PRS started the party, Cort now starts the sandblast. Although the finishes can divide the opinions, we like the look of the new GX300.
Washburn: The American company kicked off its new product announcements with a characteristic acoustics for Michael Sweet from Stryper. View the bearclaw here!
Neural DSP jumped into the world of hardware from his plug-in heartland and produced this monster (below). Neural DSP & # 39; s AI-powered Quad Cortex floor modeller is a & # 39; Vulgar Display of Power & # 39;
Washburn: The American company kicked off its new product announcements with a characteristic acoustics for Michael Sweet from Stryper. View the bearclaw here!
nicer: The company goes all-in on multi-effect modeling units. And the new GE250 is competitively priced with a seriously impressive specification. We will take a closer look at the show floor and there will also be many more of them. In other Mooer news, the company has introduced new Micro Series pedals, the A7 Ambiance and D7 Delay.
SolidGoldFX: Fans of Zeppelin and Tonebender are looking forward – a treat is coming your way with the new Communication Breakdown fuzz.
Faith: The British acoustic designers are extending this year with their first nylon and baritone models.
Darkglass Electronics: Finnish supplier of bass amplifiers, pedals and other low-end equipment launches a new range of lightweight cabinets. But fear not, we have been promised that the relative attractiveness of the DN Cabinet range will not be at the expense of a thin tone.
Boss: Do the securities legends have anything in the tank to release? After all, it has already revealed the SY-100 guitar and bass synthesis and the highly desirable Waza-Air amplifier and effects headphones. Uh, yes! How about this, to start with: Meet Boss & # 39; new flagship amplifier, the Katana-Artist MKII, or his new Acoustic Singer Live LT amplifier.
Vox: We recently visited the UK Vox headquarters and are sworn to secrecy, but they have new products that are more than just backline related. However, the entry into the small market for modeling amplifiers is now officially announced and features its electro-luminescent NuTube technology. View the Cambridge 50-watt modeling combo amplifier here. It has also added a Bluetooth-compatible Mini Superbeetle.
PRS: Late last year, the Maryland builders unveiled six new SE guitars, plus new signature models from Mark Holcomb and Dustie Waring. There are also numerous models for the 35-year anniversary. But we want more – especially John Mayer who walks into the show to announce an SE Silver Sky. Shall we get it?
Earthquaker effects: Good news for those who missed the Sunn O))) Life Pedal last year when it was sold out almost immediately. There is a second version and this is not only more compact, there are also extra functions.
(Embed) https://www.youtube.com/watch?v=zx_NPRrgfLM (/ embed)
Tech news
(Embed) https://www.youtube.com/watch?v=DukgSHKiq6s (/ embed)
Universal Audio: In a daring step – and one that could have far-reaching consequences for the music production industry – Universal Audio has announced the LUNA recording system (above).
Akai Professional has unveiled the MPC One (below), a new stand-alone production tool that fits as the smallest – and cheapest – of the current range of hardware beat makers.
Behringer: At the moment, barely a week goes by without Behringer announcing a new or different product – most recently an emulation of the Octave CAT synth. So, did the company hold anything back for NAMM time? Yes: the Roland aping system 100 modules for starters.
SSL: Speaking of irresistibly affordable equipment, the new budget audio interfaces of SSL promise studio quality at affordable prices.
Highlight: Apogee has announced Symphony Desktop, a DSP toting 10-in / 14-out audio interface that promises to combine the sound quality of the existing Symphony I / O MkII with the simplicity of the more affordable Duet and Quartet interfaces.
Arturia: Arturia has announced the latest addition to its controller series, the KeyStep Pro – a 37-key MIDI keyboard equipped with a multi-track sequencer and many I / O options. It has also added a new 88-note model to its KeyLab Essential series of MIDI controller keyboards.
Moog: We were told for the first time that Moog might have a new synth on the road due to a leak in December, and now the American synth icon has confirmed the arrival of its newest, Subsequent 25. descent with Moog's Subsequent 37 and its predecessor the Sub 37, although its close relative is the 2013 Sub Phatty, which it replaces in the Moog line-up.
Korg: Korg showed his NAMM hand early and gave us the Wavestate synth – an updated version of the Wavestation. View our review.

Following the Jean-Michel Jarre leak, the ARP 2600 FS was also announced, and we also have an assessment of that.

That is also not the end of the Korg story: view the SV-2 stage piano, a beginner-friendly i3 music workstation, NC-Q1 smart noise-canceling DJ headphones and Nu: Tekt OD-S, a kit for building your own overdrive pedal.

And if that's not enough, what about the SoundLink mixers – made in collaboration with Greg Mackie – the full-size MS-20 synth and RK-100S 2, an updated version of the company's keytar. Oh, and several reliable-looking messages on Reddit and Instagram seem to suggest that a six-operator FM keyboard named opsix has quietly appeared on the NAMM booth of Korg prior to the official opening of the show.

The Japanese giant delivers again.
Sequential: It's been a while since Dave Smith's sequential brand announced a new synthesizer, so we quietly expected something new for this year's NAMM show. And now we have it – a new flagship synth called the Pro 3 (above) – and it looks great!
Roland: Roland exhibited in CES 2020 in Las Vegas and announced the A-88MKII MIDI 2.0-ready controller keyboard and Go: Livecast mini live streaming studio. We also had a concept piano to watch.

At NAMM, the company has confirmed the RD-88, a compact, lightweight stage piano that is a bit cheaper than some of the competition.

Clavia has thrown the sink at it; its versatile Nord Wave 2 & # 39; is like four synths in one & # 39 ;.
PreSonus: After the start of the year with the announcement of the hybrid mixers of the StudioLive ARc series, PreSonus has also released the Quantum 2626 audio interface. And if you are unsure whether to purchase a new audio interface or DAW controller, you may not have to choose, because PreSonus has just announced the ioStation 24c, which combines both.
Artiphon: The Nashville-based company shows off the Orba, a portable all-in-one synth, MIDI controller and looper that currently does business on Kickstarter.
RME: High-quality audio interfaces at RME are all about a new one in the form of the portable Babyface Pro FS.
Numark: Looking for a portable DJ controller that you can scratch on? Numark can help you with the DJ2GO2 Touch.
Vochlea music: If your current MIDI controller does not work for you, sniff the Dubler Studio Kit, with which you can control your equipment with your voice. It gets its American debut at NAMM.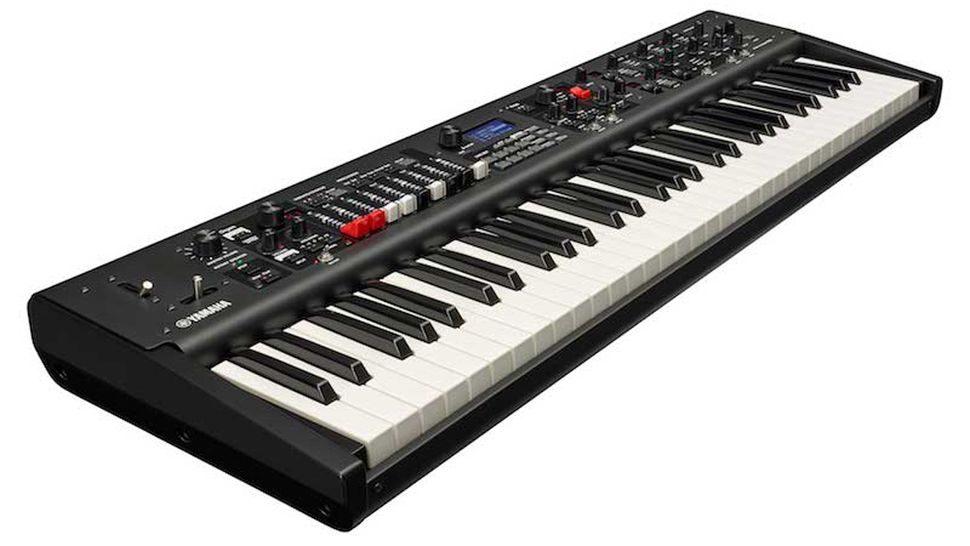 Yamaha: The YC61 is a compact stage keyboard that can be great for gigging musicians. The highlight is the organ part, which offers real draw bars, but there are also many other sounds here.
AMS Neve: The AMS RMX16 was a classic reverberation unit from the 80s and now returns as part of the rack-mounted 500 series from AMS Neve.
Sonicware: Sonicware succeeds its first portable synth, the OP-1-like ELZ_1, with the Liven 8bit Warps, an 8-bit wave-memory synthesizer. Designed with live performance in mind, this specializes in retro chiptune sounds.
UVI: While Roland has been busy emulating many of his classic synths for the Roland Cloud plug-in suite, UVI has also paid a lot of attention to the back catalog of the Japanese giant. The result is the JP Legacy bundle, a collection of four instruments that pay homage to some "out of this world" Roland synths from the past.
Audient: Audient has amazed us with the quality of its iD4 audio interface and is making a new game on the budget side of the market with the EVO series.
Novation: Following the launch of the Launchpad X and updated Launchpad Mini MIDI pad controllers in 2019, Novation has now focused its attention on the Launchpad Pro flagship, which is announcing an Mk3 edition. In addition to larger pads, it comes with a built-in MIDI sequencer.
Engineering time: Blipblox was the synth of the children that parents wanted to use in secret, so now the maker, Playtime Engineering, is publishing an adult version – Blipblox After Dark – that has been redesigned and redesigned for adults.
Nektar: Nektar & # 39; s Aura is a beat and performance-oriented pad controller and MIDI sequencer that looks like it has some pretty advanced functions. With a TFT color display and a tight plug-in and DAW integration – plus the option to sequence your MIDI hardware – it has the potential to be in the hub of your studio.
Output: Best known for its plug-in instruments and samples, now comes in the studio monitor game, but does not play alone. The company is working with speaker specialist Barefoot Sound to create a new product that will be released this summer.
2HP: 2HP has unveiled the Lunchbox, a cute little Eurorack case that you can buy alone or full of tasty modular pieces. This 42HP housing is fully powered and has a lockable lid and can be played with virtually anywhere thanks to the carrying handle.
Gamechanger Audio: GA & # 39; s newest reverb stomp box, the Light Pedal, is described as an "optical spring reverb." The pedal combines a traditional analog reverb tank with infrared optical sensors to harvest & # 39; the full timbral and harmonic range of a spring reverb tank & # 39 ;.
KROTOS: Krotos has unveiled its first soft synth and is designed to make the process of patch creation "fast and inspiring." Known as Concept, the instrument promises a flexible synth engine that allows you to create everything from synth sounds and evolving textures to sound design elements.
Audio damage: If you like ambient noise and chilled synth sounds, Audio Damage may be able to satisfy your down tempo desires with its new Continua synth.
Abstrakt Instruments: Released in 1979, the Oberheim OB-X remains a real synth icon, and it is also the inspiration for the VS-1 from Abstrakt Instruments, a new synth based on its design. However, since this is 2020, the company has added modern digital control.
Teenage Engineering: Ortho Remote is a wireless remote control designed for use with the OD-11 speaker from TE. However, there is something more going on, because Ortho Remote is also a wireless Bluetooth MIDI controller that can be used with all BLE-MIDI compatible music software.
Tascam: Labeled as an "integrated production suite", the Model 12 is essentially a 10-input mixer with integrated 12-track digital recorder and 12-in, 10-out audio interface.
Lumatone: We have seen isomorphic keyboards before, but we doubt that there has ever been one that looks just as nice as Lumatone. This combines concepts of old music theory with a state-of-the-art design.
Spitfire Audio: The British sample library outfit Spitfire Audio has unveiled the latest update of its flagship Albion range, NEO. Spitfire has long been proud of being at the more contemporary end of the orchestral library market and Albion NEO continues that trend, inspired by "the emergence of a new wave of progressive musicians and composers."
Drums news
The best equipment on show in Anaheim, captured on camera
The best equipment on show in Anaheim, captured on camera
The best equipment on show in Anaheim, captured on camera